Join hands with us to support the elders with chronic diseases - Home-based Chronic Disease Management Service
---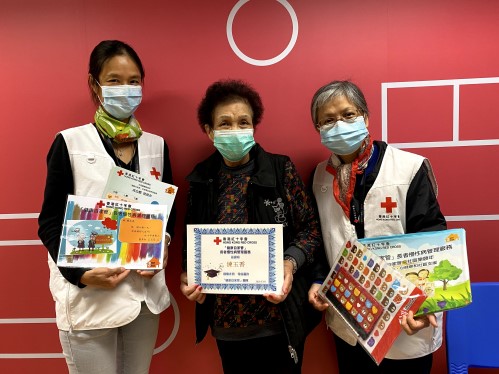 In Hong Kong, many elders feel anxious and helpless in the face of illness and loneliness. Some frail elders are even plagued by chronic diseases such as hypertension and diabetes. If they can't manage their illness well and get proper care, their condition may unconsciously deteriorate, exhausting them physically and mentally.
85-year-old Grandma Lin is living alone in a public housing estate in Kwun Tong. She has had diabetes for many years and her condition has recently stabilised. Now she focuses on treating her other health issues, such as hypertension and rheumatoid arthritis. She keeps consulting a doctor and taking medication. However, she suffers from swollen feet every time if the weather turns bad. When this happens, she will need crutches or a wheelchair to help her walk. Two years ago, after a referral from a local elderly service centre, she participated in the Hong Kong Red Cross's Home-based Chronic Disease Management Service for the Elderly (CDME) programme. Through CDME, case managers and registered nurses visit and assess participating elders regularly within a service period of 12-18 months. During the visits, the volunteers will teach elders how to well manage their chronic diseases while giving them support, helping them feel cared and providing much-needed companionship.

"Grandma Lin follows our suggestions and is very positive about her illnesses. Basically, she knows what she ought to do and what not to do. However, there are some misconceptions about her living and dietary habits that I need to keep reminding her of, such as an incorrect intake of salt and sugar when dining out."

Volunteer Wong Yuk Kwun tells about her interaction with Grandma Lin. Wong became a CDME volunteer in 2018 and has known Grandma Lin for two years. She says, "She smiles a lot but deep down she longs for love and care, in particular from her family. As an elder myself, so I understand their feeling pretty well." Ms. Wong points out that when visiting the elderly, the most important thing is to give them care and encouragement. "If the service is merely about providing them with healthcare information, a recording or a leaflet will do. What they genuinely need is someone to listen to them and encourage them, the care and love that focuses on people."

Please support us by providing diversified humanitarian services to the patients, and bringing them love and warmth to relieve their pains. You can continuously support our "Home-based Chronic Disease Management Service for the Elderly (CDME)" through One-off donation or join our monthly donation programme and become "Friends of Red Cross" or increase your current monthly donation.